The Waitukubuli Dance Theatre Company is this year celebrating its 50th anniversary under the theme 'A Dream Come True.'  Formed in 1971 by Chief Cultural Officer Raymond Lawrence, the dance company continues to thrill audiences with an eclectic mix of traditional dances infused with modern influences. Waitukubuli will stage its anniversary dance showcase from April 30th to May 2nd, 2021 as part of a programme of activities launched in January, 2021.
Vynliz Dailey, for eMAGE Magazine, caught up with Raymond Lawrence to talk about his work with the Waitukubuli Dance Theatre Company and in the forefront of cultural development in Dominica.
It's an early evening in January – several months before the 50th anniversary production of the Waitukubuli Dance Theatre Company – and Raymond Lawrence, with arms folded, is at the national stadium grounds observing his junior dancers at their second practice for the week.  His calm demeanour and gentle coaching style urge dancers to press on to perfect the moves.  When they stumble – he is right there, with grace still in his bones, to replicate the choreographed poses.  The way he runs dance practice seems indicative of Lawrence himself; extremely passionate, yet calm and concerned with the success of others.  Lawrence is the founder of the dance company, Chief Cultural Officer, and arguably one of the most influential men in culture.
His success, for which he has received numerous accolades, is a result of over 60 years of sustained effort and unwavering commitment. An early start in drama and music at the Convent Preparatory School in the late '60s led him to join what was then called The Little Theatre Group with the likes of Alwin Bully and Daniel Cauderion. By the time the group's name changed to The People's Action Theatre, Lawrence had transitioned to the St. Mary's Academy and was also part of the Secondary Schools Drama Society as an actor.  At the age of 15 he was invited to form part of a delegation to Grenada for Expo-69 as a dancer. Though he had never danced before, Lawrence accepted the offer and agreed to learn. "At that time, they taught us the bèlè, they taught us flirtations and some of the folk dances to represent Dominica. So, that's when I really got involved in folk dance," he explained.
This unexpected introduction into the world of dance would change the trajectory of his creative life forever. By the time he was 17, and still, a high school student, Lawrence and a group of friends formed The Progressive Youth Group in January of 1971.  By 1972 the name was changed to 'Kubuli' and then finally to the Waitukubuli Dance Theatre Company as it is known today. Since then, Lawrence has made big waves in Dominica and the region as a broadcaster, author, media personality, cultural enthusiast, choreographer, and dancer.
A week after Lawrence's 67th birthday I met with him to talk about his journey to one of the most prominent offices in public life, sustaining the dance company for half a century and his life outside the spotlight.
*This interview has been edited and condensed.
Vynliz: You started the Waitukubuli Dance Theatre Company in 1971.  At that time, you were a 17-year-old high school student. Can you remember what the first year was like?
Raymond Lawrence: As soon as we were organised, because Carnival was coming up in 1971, we organised a carnival band: 'Journey to the Centre of the Earth.  We placed second and got the 'King of the Band' title. That year [in] May we did a May Panorama – which was just like a talent show. And in the May Panorama, we had a May Queen Competition. That same year we were invited to Antigua's Carnival to perform in August, so we performed in Antigua in 1971.
Historically, there has been stigma surrounding boys and men who dance. Has that stigma affected your career – dance or otherwise in any way?
To me, there has always been dance. In Dominica for hundreds of years, you can say, we had the bèlè we had the folk dances, and a lot of men were dancing because with bèlè you must have men. So, sometimes it's people's interpretation. And yes, people would, sometimes equate or associate creative dance with more women. But I never thought about it. I never let it bother me. I never looked at it from that perspective. I just thought it's an art form where it involves both men and women.  I don't want to make a general statement because we have received so much support from Dominicans. So, maybe it's just a few people, I think, who sometimes have a narrow view of dance.
From decade to decade there have been major changes in the group. Can you walk me through some of those transitions?
From early on we did dances at Fort Young Hotel. We did what you call aqua ballet in the pool as part of the shows, and those were very successful shows. Then we moved to St. Gerard's Hall because we felt we wanted a proper stage to perform the dances. We did a lot of shows at St Gerard's Hall plus travelling at the same time, doing carnival bands at the same time. We also started our teenage pageant as well in 1978.  And that too has grown from what I would maybe call a 'simple show' to now, people feel, it's one of the major shows of Carnival every year.
The technique of the dancers has evolved from maybe simpler steps to more complicated to more advanced and difficult and challenging steps. The level and standard of shows, the quality of the costumes and the lights and the sound – the whole production has grown. I have to thank the members because groups are about leadership and membership. Some members stayed for short periods of time but there are some dancers who were there for over 30 years, over 40 years.  Maybe in the very beginning we had anywhere between 10 to maybe for the most 16 dancers. There was a time we had four sections of the group, the juniors, the intermediates, the supporting intermediates, and then the seniors. After Hurricane [ Maria in 2017], we combined the juniors and intermediates, and we combined the supporting intermediates and the seniors. We still have two sections now. But when you put all of them together, maybe about 60 dancers at any one time, and now I would say we have 40 to 50 dancers.
What has contributed to the sustainability of the dance company over the years?
I think the sections are important. Then the fact that there is upward mobility, from the juniors they move up and start to do more challenging stuff. And in terms of assistance to me, I have always tried to have assistant directors. God-forbid, in case anything would happen to me somebody would be there to be able to take on the responsibility or if for instance, I couldn't make it – the assistant [is] there.  Now we have two assistant directors. And that's another thing with Waitukubuli. We don't stop. Kubuli is all year round. The only time we take a break is at Christmas time. The group takes a vacation and then we come right back – very early in January because usually, we are preparing for Carnival and the teenage pageant. Apart from performing we organise the teenage pageant as well. The members get involved in other skills like helping to organise, helping to plan, helping to be part of the preparatory phase of that show. And even for our dance productions, they all have responsibilities. Apart from the dance they also learn other skills especially in helping to stage the events and to manage certain activities.
What would you say has been your biggest achievement as Director?
One of the best factors for me would be having given these people an opportunity to dance, to build their skills, to build their talents so much so that they can even get jobs in those areas now. They can pass on those skills to other people; they can even create their own dance groups. I think we've been able to help to build and play our role in cultural development in Dominica.
The 50th Anniversary celebration is themed 'A Dream Come True.' What is the motive behind that?
For me personally, it is really a dream come true. I don't think I had much choice with a theme. Fifty years is a very long time for any group – any institution. There was a time I did pray I said, "Lord help me to see the 50th'.  And so, it is. I have to thank God that he brought me to this, and he allowed that dream to come true for me and for the group as well. It's short and simple but it just hits the nail on the head.
Can you talk a bit more about what the anniversary production might look like?
The first half of the show I think is going to be more along a storyline kind of thing. And I would say too, Waitukubuli, and maybe it's a personal thing of mine, from day one has always been about Dominica. While we take elements of ballet and modern and jazz and everything else at the end of it – we mix it with all the 'Dominican-ness' of dance.  The second half will be a little more…maybe you can use the word generic, where you use different types of music. But in-between you have the intermediate section, you have the past dancers performing and then you have the seniors doing performances.   We may have one or two guest artists in between as well. So, it should be a very sort of interesting mix of performances.
These days you've placed emphasis on your role as a choreographer.  Do you remember when you stopped dancing on stage?
Maybe about eight years ago. In 2016, [a group] invited me to Houston to speak. Then they said they wanted me to dance the bélé for them. And maybe in a sense that's more recent although it wasn't in Dominica. But I do intend to perform for the anniversary. So, the 50 years has brought me back on stage let us put it that way.
About you returning to former things. In 2014 on your 60th birthday you retired as Chief Cultural Officer after serving 23 years in the position. About three years ago you returned to the post. What happened?
When you reach 60 [years-old] you have to retire whether you want to or not. When my turn came, I had to. I didn't have a choice. I stayed home for about three years. When I say stayed home, I was still chairman of Independence Celebrations and, of course, still had Waitukubuli. I never sort of stopped, and then I would also do some radio work because before dance I was a radio broadcaster. So, I just kept myself occupied in those ways.  But then in 2017, I got a call from the Ministry asking if I could come back as the Chief Cultural Officer. With the spiritual connection, I just had to say maybe God wants me to come back for whatever reason, whatever purpose I didn't really get into that part of it. But I said there must be some reason, there must be a need because they would not have called me to come back. I did ask them to give me some time to think about it. That I could talk to my family and friends about it; that I could pray. I told them to give me about two weeks to make up my mind. I wasn't quite sure. But at the end of the two weeks, I said okay.
How long do you think you will stay on?
When they called me, it was a two-year contract that I had agreed to.  Right now, I'm not sure. I'm prepared for anything. It could be maybe they want to move on with other things. That's fine. If at all they need my services I'm not sure – maybe in a different way or whatever it is. [I am open to it]. So, that's how I look at it I just take it day by day, month by month, year by year. People have been very supportive, very complimentary, people seem to like the work that's going on and what's happening, so I thank God for that. And at least I've been trying to play my part in cultural development.
What have been some of the defining moments in your personal and professional life over the last five years?
Well, the whole idea of retiring and returning to work especially has been almost like a landmark in my life in a way.  I'm also happy about the Dominica Institute for the Arts at the Old Mill which was really my idea to start it off. Now we're into our ninth year and it has trained so many young people. Up to this year, we had like 200 students total which is really remarkable. Students have now gone on to do CXC at certain subjects at the institute. Now we're looking at CAPE.
Also, I have led cultural delegations before to CARIFESTA but that one to Trinidad I feel was a very special one in 2019- CARIFESTA-14. Do you know when things sort of just all come together? I felt that is what happened this time around. Of course, you always want to have more performers, a much larger delegation but at least we did what we could to the best of our ability.  And I have to say we got rave reviews [and] not just from Dominica and Dominicans but from Trinidadians themselves and other parts of the region. So, I was very, very pleased about that. We thank God that we were able to do this.
In the cultural division, we were able to bring back the DOMFESTA song contest which we haven't done in about 10 years. We brought it back in 2018 and 2019 and then we're going to try to do it again this year along with new types of events that we have been doing at Emancipation time and independence.
Your last published work Dance Dominica the Creative Dance Experience was published in 1995. Are you thinking about publishing another book?
Yes. I love writing as well.  In fact, my master's programme was really part journalism and focusing on culture and communication. But even before that, I took part in short story competitions in the '70s I've taken part in poetry competitions when they had the national day competitions even before there was a cultural department. So, I would say that I've been interested in writing for a very, very long time. I have been writing a lot of articles. And I still continue to write when I find an interesting topic so I'm trying to collect all of those in a sense.
Over the years, you have mentioned Alwin Bully as someone you look up to. Who else inspires you?
Well, Lennox Honychurch I think in terms of his writings and his historical work has also been very inspirational and of course members of my family like Jean Lawrence Mathurin [who] recorded a lot of Dominica's folk music which is still very popular on radio. My family has been a musical family – still is, so that too has had an impact on me as well. And then, the people I have had to work with like Pearl Christian, Earl Etienne, the present employees there [cultural division] all inspire me with their work.
Apart from culture and art what other cause is important to you?
I've always liked the environment; some people may not even know. I care a lot. If maybe I could get a job in environment maybe I would take it. To kind of landscape Dominica a little more, to clean, to remove the garbage, the derelict vehicles the containers by the side of the road. And maybe to plant more flowers and plant more trees and clean the country, clean the beaches a little more. My heart goes out to people who are suffering and elderly and the vulnerable so that's another area I don't mind helping out with. So those are some of the areas. I used to be a broadcaster so I kind of like that too. That's another area I maybe I could have been in maybe full time had it not been for my switch.  At one point I switched over to culture. So, that's another area.
You have often been described as a multi-talented individual. Still, what is one talent you wish you had?
You know, I love singing. I used to sing when I was in primary school and I was even part of a choir at university. But I still don't really consider myself a singer as such.  So maybe If God had blessed me with really great singing, I would have loved that.
Cover Photo Credit: Yuri A Jones Photography
Other Photos: Raymond Lawrence

More from Culture
---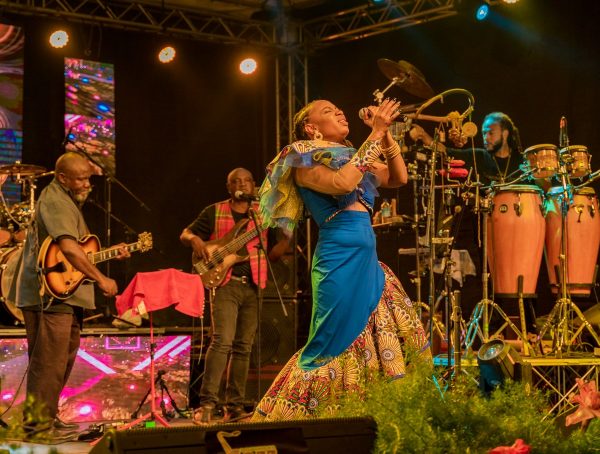 Jazz 'n Creole made a triumphant return to Dominica's entertainment scene on May 1st, 2022. Renowned as the fashion-centric, family-oriented, daytime …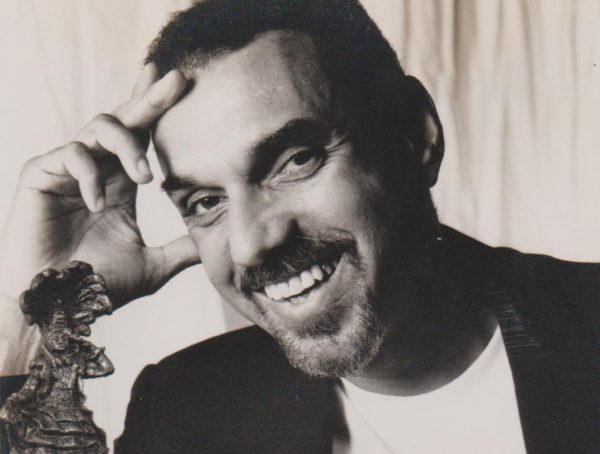 As Dominica celebrates Flag Day, another honour seems only fitting- rename Flag Day, Alwin Bully Day. Alwin Bully gave Dominica its …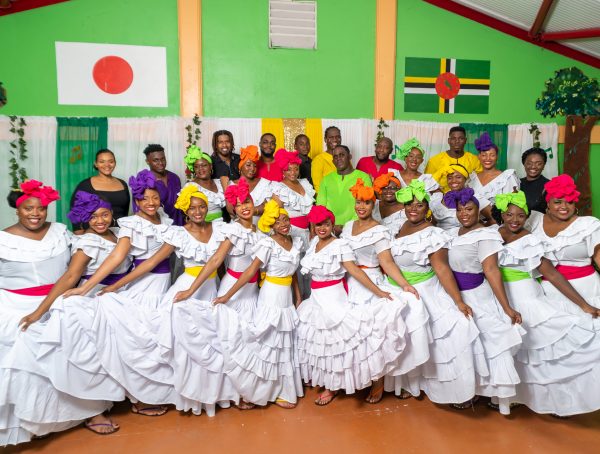 The Sixth Form Sisserou Singers (SFSS), a cultural institution in its 27th year, is showing signs of reinvention and growth. The …