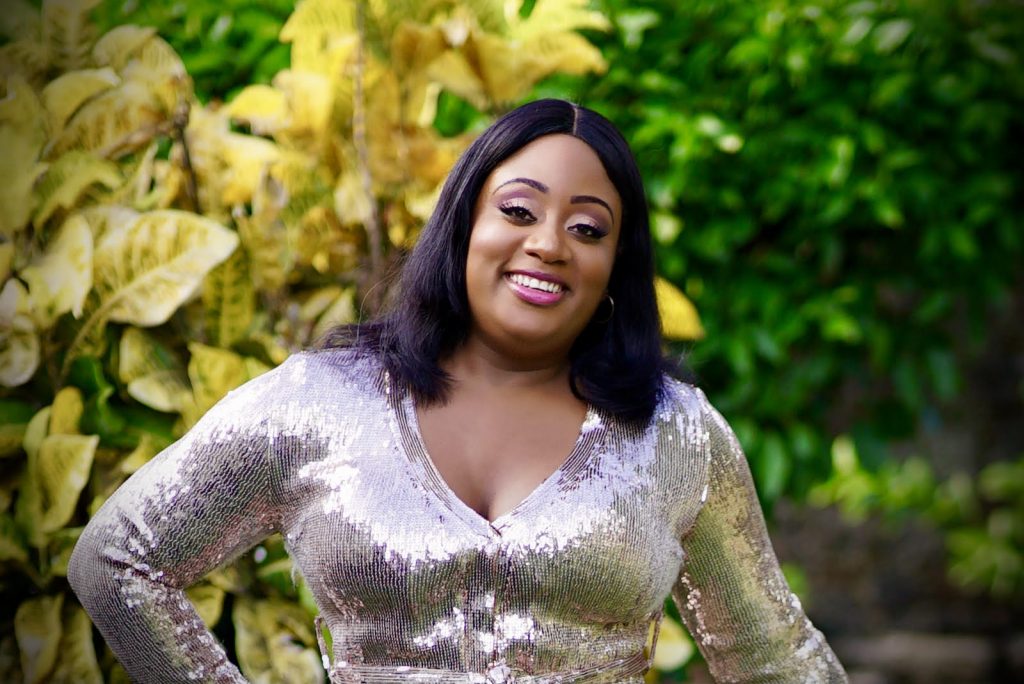 2020 is the year many of us want to forget.  But for some, 2020 was the year of unexpected opportunity. Dominica's Carlyn XP- a nurse turned full-time musician, is among those who snatched the opportunity presented and stumbled onto digital stardom in a totally unplanned and organic way.
 Every Sunday, the Bouyon Queen, alongside her musician husband Cornell Phillip, leads her Bouyon Army in their weekly ritual of Musical Therapy with Carlyn XP– thrilling them with a repertoire of music, tips, comedy and COVID-19 PSAs.   The army religiously shows up as individuals in Dominican bedrooms, as family units in UK living rooms, as a couple in a Houston garage or as tribes of friends and neighours in Brooklyn backyards. Decked out according to a theme, they log in to their preferred platforms, Zoom or Facebook, prepped for another digital dose of good vibrations.  Within feet of their screens, they, through her, escape the harsh realities of the pandemic, emerging renewed, refreshed, and re-energized.
The Zoomers actively participate in the sessions- requesting songs, complimenting Carlyn on her outfits, showing off their own costumes, dancing from start to finish and making financial donations via various digital apps.  Guests who have been invited to the platform include Dice, Gordon Henderson, Starsha and White Fairy. The set list  is extensive, varied and largely original with Carlyn XP tracks like the Soca  numbers 'Stranger,' 'Bumpa Scare' and '241,' and Bouyon energizers like 'Bouyon Army,' 'Bouyon Calling,' and 'Foreigner.' Patriotic and nostalgic staples include 'Raise Your Flags' her entry in the 2019 Domfesta Song Competition, 'Dominica Strong' recorded after Tropical Storm Erika, 'Pray for Dominica,' the NCCU Cadencelypso winning song of 2018 and 'Like Home,' a number that resonates with Dominicans abroad in these trying times. 
 With each performance, she shares different layers of her life- from personal anecdotes to quick moments of intimacy with her do-it-all husband and business partner. Her performances are often punctuated with gleeful bursts of "Oh My Word," "Doh Stress Me Out," and the ever popular "I wasn't readyyyy!" which she exclaims when her Zoomers up the ante and express their enjoyment in some manner she wasn't expecting. 
Though unexpected, Carlyn XP's personal and professional triumphs and her various alliances formed over the years, have groomed her for this epic moment in her professional journey.
Born Carlyn Vernella Xavier, she was raised by her father in Giraudel, a community perched on the not-too-distant hills above Roseau, known for its annual flower show. She recalls a childhood full of the typical island pastimes of ring games, river baths and rounders. As a child, she sang in the church choir and later joined Modifé, a Giraudel based-band.
  "… and it doesn't stand for more fire," she quips. "It meant using what we had and adapting it; so reusing things to make instruments and so on."
After high school at the St. Martin Secondary, she successfully completed the nursing programme at the Dominica State College. A nursing career did not quell the desire to sing and she joined the Energy Band in 2007 moving on to the Reggae Band, Caribbean Vybes in 2010. 
Carlyn credits Dunstan "Maggie" Peters for her first big break on the national stage.  He recruited her for a Bouyon Unit segment at the annual LIME Creole in the Park- one of the biggest daytime events in arguably the most celebrated period on island- the Independence season.  Carlyn recalls her anxiety at the thought of sharing the stage with Clint, Nayee and other top rated acts of the genre and meeting Bouyon music pioneer, THE Cornell "Fingers" Phillip. Little did she know how much of a key role he would play in her life. 
 "I was nervous because I had never done anything like that before and as soon as I decided to get my feet wet, they just pushed me into the deep end- sink or swim wi, you know!"
 And swam she did, coming out stronger and ready for more. 
She joined forces with Cornell becoming the lead vocalist of Fanatik, a live act featuring an eclectic repertoire of popular hits at venues around the island. With the increased visibility and new-found confidence on stage she took on the Soca Monarch competition, winning the Groovy Soca Monarch title with the song 'Music Fever' in 2010 and placing 1st runner up in the Power Soca Monarch with 'Like a Fanatik.' By 2017, she had cemented her spot as one of the island's top live performers having won the Bouyon Monarch two years running. 
 With a string of successes to her name Carlyn admits to nerves every time she hits the stage.
"All the time.  Especially if I am going to a new place.  I was going crazy in Belgium, when I saw the size of the crowd. I think the population of Dominica was in there."
There, being the annual Antilliaanse Feesteen.  In 2015, Val Cuffy facilitated her performance by convincing the promoter, who had only seen her as a backup vocalist, to take a chance on the unknown singer.  At sound check for her performance that night, she was asked to do an impromptu afternoon set. 
 "I was in street clothes! I had to be rushed to the hotel to change … forget about sound check eh."
 Unbeknownst to her, the promoter who was watching from backstage, was moved to tears at her set and called Val Cuffy to sing her praises. "It was amazing," she reminisced. "I went up as a nobody and he said we performed like a major act and so he paid us more.  That taught me the importance of really learning the business."
Carlyn and Cornell have approached the musical journey with passion and an acute sense of business. Building on the success of Fanatik, they have performed as the duo C Squared- in countryside bars, for cruise tourists and at private events.  Carlyn is constantly developing her Xplicious Brand, and recently launched a clothing line, Xplicious Clothing.  Now, with Musical Therapy and her weekly Keeping it Xplicious YouTube show, the two are gaining new knowledge of Zoom, video editing, graphics, social media management and a plethora of skills needed to stay relevant and ahead of the curve. 
 "University of Google never fails.  Everybody passes with flying colours," says Carlyn with her customary broad smile and deep chuckle.  "Cornell does everything- he may take more time than a professional, but as time goes by he gets better."
 And it's not just Cornell making the magic happen each Sunday.  Hagana Dorival, another do-it-all'er manages Zoom, and serves as stylist and choreographer. Hernica Dorival-Corriette and her husband Nigel who live off island give feedback after every show as does fellow musician Chad Augustine. Tamara Williams helps with hospitality whenever guest artistes appear, Wayne George provides security (no one enters the compound during a live performance, ok!) and Val Cuffy is ever present behind the scenes. 
 Musical Therapy, she says, started out as a way to counteract COVID-19 cabin fever.  
"We were home bored and Cornell was like 'We should go live.' We hadn't performed since Carnival and it was then Lent, so the country was already shut down in a sense. So we were like everybody's home on a Sunday so let's do it then, you know, sing one or two songs, talk some nonsense and that would be it."
 The requests for more performances started pouring in. Carlyn says fans who were at their breaking point sent messages asking for the continuation. "People were just mentally drained. There was this one lady who was suicidal. She did not know what to do with herself anymore."
 That message and others like it prompted her to use the Zoom sessions to raise awareness about mental health and the pandemic's impact on mental well-being. "Musical Therapy impacted people. It was actual therapy," Carlyn contends.
But what about her? What's her therapy?
 "Playing rounders and dominoes and of course being online with my Zoomers each Sunday. It helps me as well."
A public figure in entertainment, there is pressure on her to look a certain way. She is conscious of whispered criticisms of her weight, something she tried to address with exercise and diet until one day at the gym.
"I told my trainer I can't get off the floor, my stomach is just killing me.  Next day we went to the doctor and turns out I had a cyst the size of a four-month old fetus inside me and I had no idea." "
Ever the optimist, she recalls that the cyst was shaped like "a love heart" a reminder to love herself through the pain and the frustration. "People don't know what you go through.  That's why I believe in never telling a woman or anybody, about their weight or asking them why they are not having kids, because you never know the reason why."
She is also working to sharpen her image in the mold of the glamorous female superstar. "I am conscious about my image. I haven't found it yet. I mean I'm just starting to find my voice. But it's something I'm working on."
 Carlyn also wants to assist other artistes to find their voice and is especially keen on mentoring female acts such as Starsha and Melodee, impressing on them the need to stay focused and informed about the industry. 
 "If you want to be a musician you have to be a musician 24/7. It cannot be a hobby," she advises, adding that there is ample room for private and public sector entities to give aspiring entertainers a push to succeed.
  "When you go to the bank and say I would like to apply for a $10k loan to make a music video and the loans officer asks you how you will be able to repay the loan, that tells me they don't understand the industry. Ma'am you are playing my song, the music video is my advertisement, so when people see the music video around the globe they will call me to perform."
She laments that private sector entities are also guilty of using artistes' music without permission and compensation. Government support, she says, is also lacking.  "I think this Coronavirus has shown us exactly where the government and people in charge stand when it comes to the music industry.  You have other countries putting on virtual shows and paying artistes a little something to perform and we have done nothing."
So where to now for Carlyn XP and Musical Therapy?
 "As COVID-19 is brought more and more under control, we might do less of it.   I know people are looking forward to that day when we get together for a live performance with the whole Bouyon Army that we have built together. But we still want to do it for those who won't have that option. So even if it's every other Sunday I still want to do it for them."
 On the face of it all NO ONE was ready for 2020 but Carlyn XP fortunately, was in the right place, at the right time, with the right experience and exposure and the right people around her to take a moment of uncertainty and turn it into a movement of unity, love and healing. 
 Join her next Sunday. 
FUN FACTS
Full name: Carlyn Vernella Xavier-Phillip
Children: one daughter- Chiara
Married:  December 30, 2012
Favourite genre: Reggae
Fav song from her repertoire: 'Bumpa Scare'
Dream performance: Madison Square Gardens
Beach or river: River
Photography by Elias Orville Dupuis II
Make up: CeeCee Beautastic Makeup 
Other Photos: Ian Hilaire, New York 

More from Entertainment
---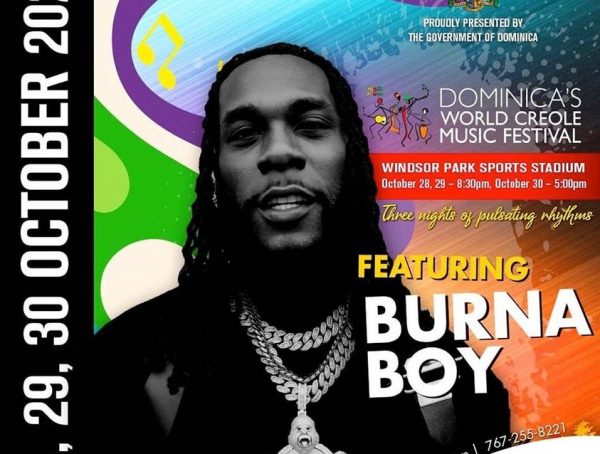 Burna Boy, the Nigerian Afrobeat sensation, will headline the 2022 edition of Dominica's premier entertainment event, the World Creole Music …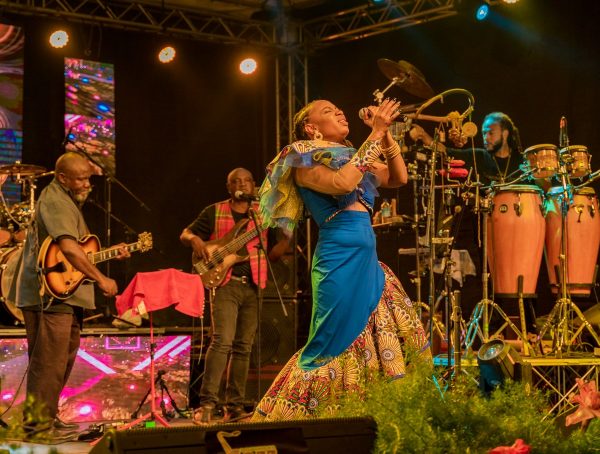 Jazz 'n Creole made a triumphant return to Dominica's entertainment scene on May 1st, 2022. Renowned as the fashion-centric, family-oriented, daytime …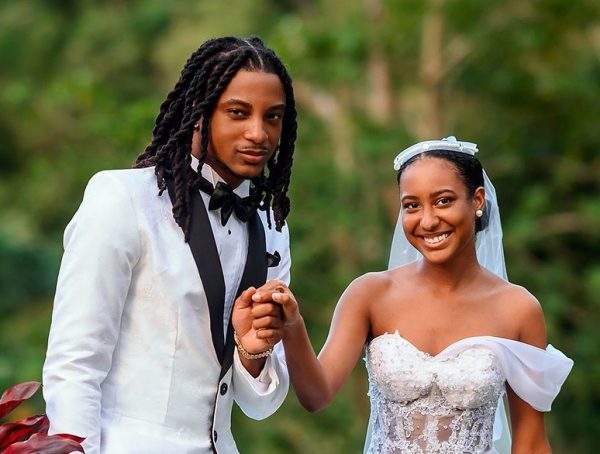 Reo OK Boom's latest single, "Dou Dou," has dropped. Reo set social media alight on Wednesday, when photos of his 'wedding' …